Monday Night Memories
Candy Jar
Boston Public Radio
Marat's Stairway
He Only Had Daughters
Atelier
Kitchen Window
Vanity
La Lampe
Pleiadian
La Musique
Mannequin
Vogue
L'histoire d'art
Forever Young
Melting Pot
Double Espresso
The Fall of Man
Boiling Over
A Rose is a Rose
Lunch Set for Three
Lunch Set For Three Study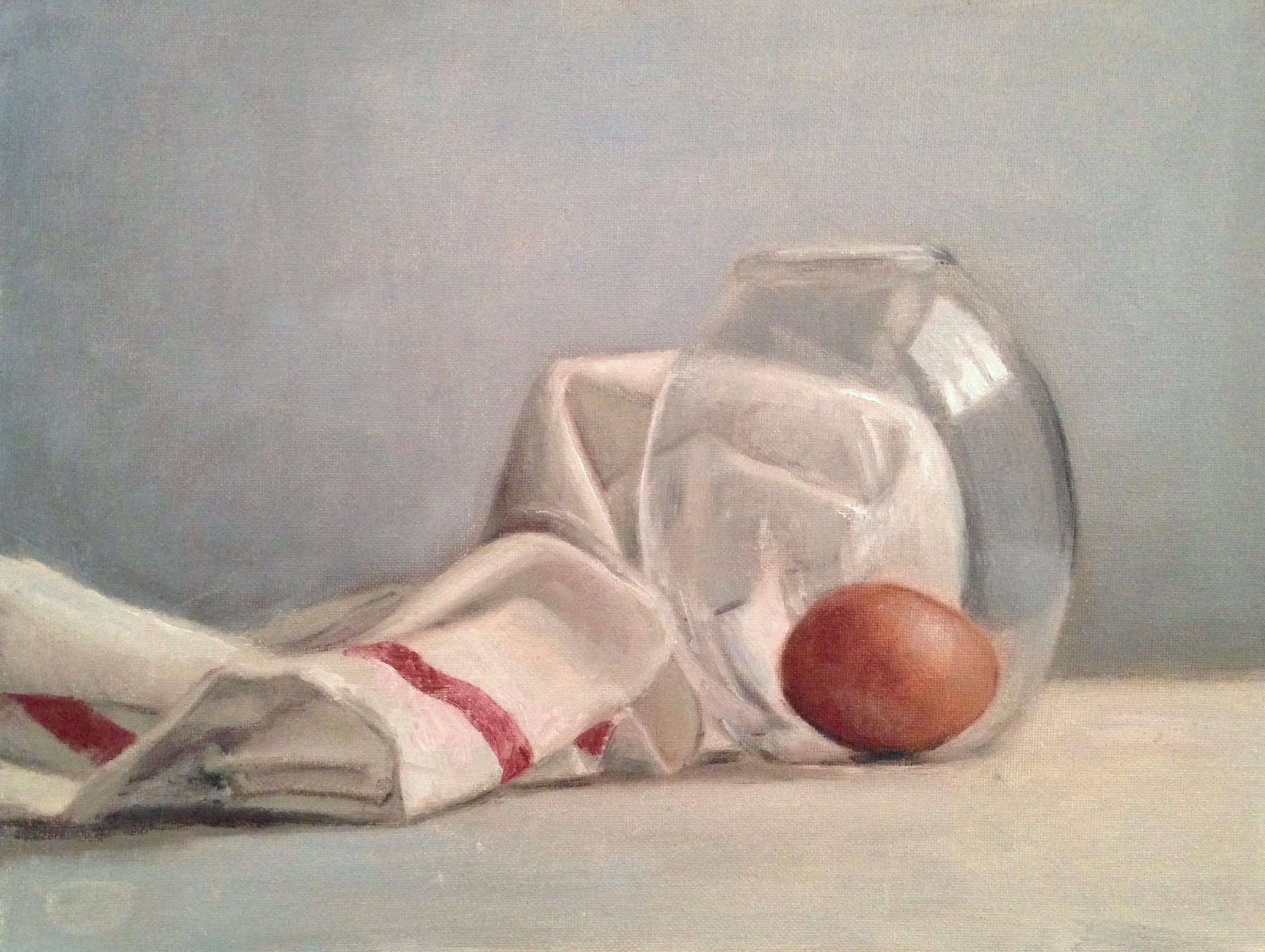 Egg Study
Clementine Study
Walking on Eggshells
Monday Night Memories
Candy Jar
Boston Public Radio
Marat's Stairway
He Only Had Daughters
Atelier
Kitchen Window
Vanity
La Lampe
Pleiadian
La Musique
Mannequin
Vogue
2015, oil on canvas, 22x28"
L'histoire d'art
2015, oil on canvas, 36x24"Renée turns the mirror onto herself and explores the idea of "self portrait", displaying the "creative" side of her personality. Each object symbolizes part of her creativity - and what people associate with being a "creative person". The ukulele lying on its side for her appreciation of music, the toe shoes showing her love of ballet, paintbrushes in their usual spot in the studio, and tubes of paint are all objects that personify Renée's creative personality. This is the first painting that experiments with the use of natural light from the window, and the inclusion of the light source, a symbol of creativity coming from one's higher self.
Forever Young
2015, oil on canvas, 30x40 in (76.2x 101.6 cm) Renée's first two thesis paintings (Forever Young and The Fall of Man) are depictions of her late father through still life. The objects chosen for this painting show his "goofy" and "young at heart" personality that he shared with her. The golf shoes, cribbage board, and cards show the most memorable games they played together (along with how to shoot spit balls and blow straw wrappers at people). Her father being born in 1948, influenced the style in which the still life is painted. Renée studied works by the artists Edward Hopper and Norman Rockwell for inspiration in mood and subject matter, resulting in a melancholic and "50's" feeling. The 1950s is the time period she will always associate her father with, as that was when he actually was a little kid, even though he remained one at heart his entire life.
Melting Pot
2014, oil on canvas panel, 18x24" (45.72x60.96 cm) A study for a larger painting. Renée explores her mother's "mothering" side. The use of a warmer palette, with accents of cool blue light is reminiscent of the comforting feeling one may associate with being a mother. The kitchen tools are all symbolic of her personality and the usual nest egg of any home, the kitchen.
Double Espresso
2014, oil on canvas panel, 18x24 in (45.72x60.96 cm) Double Espresso is an exploratory work for a larger work depicting her late father. Every object has a specific meaning; the tea tin filled with her favorite tea he gifted her, his favorite Lavazza espresso, the espresso cup he chose to drink out of, the electrical wire and electrical outlet representing his profession as an electrician, and the espresso machine he would linger around, always asking for another "double espsresso".
The Fall of Man
2015, oil on canvas, 22x28"In this second painting about her father, Renée explores his "addictive" personality. By the end of his life, he had achieved 30+ years of sobriety, a fact that makes her very proud of him. The objects are metaphors for his life in the darkness, shadowed by alcoholism, and his journey into the "light". Renée witnessed her father's transformation throughout life, that by the end of, he had become someone who truly loved living, and believed time is the most precious thing we have.
Boiling Over
2015, oil on canvas, 11x14"
A Rose is a Rose
2014, oil on canvas panel, 12x16"
Lunch Set for Three
2014, oil on canvas panel, 12x16 in (30.48x40.64 cm) The first painting after her father's passing, Renée incorporates symbolism through the objects and their composition. The stark contrast between the white table cloth and black background creates a division, representing life on earth, and the void after death. The three apples depict their weekly lunches she shared with her father, his apple now fallen over.
Lunch Set For Three Study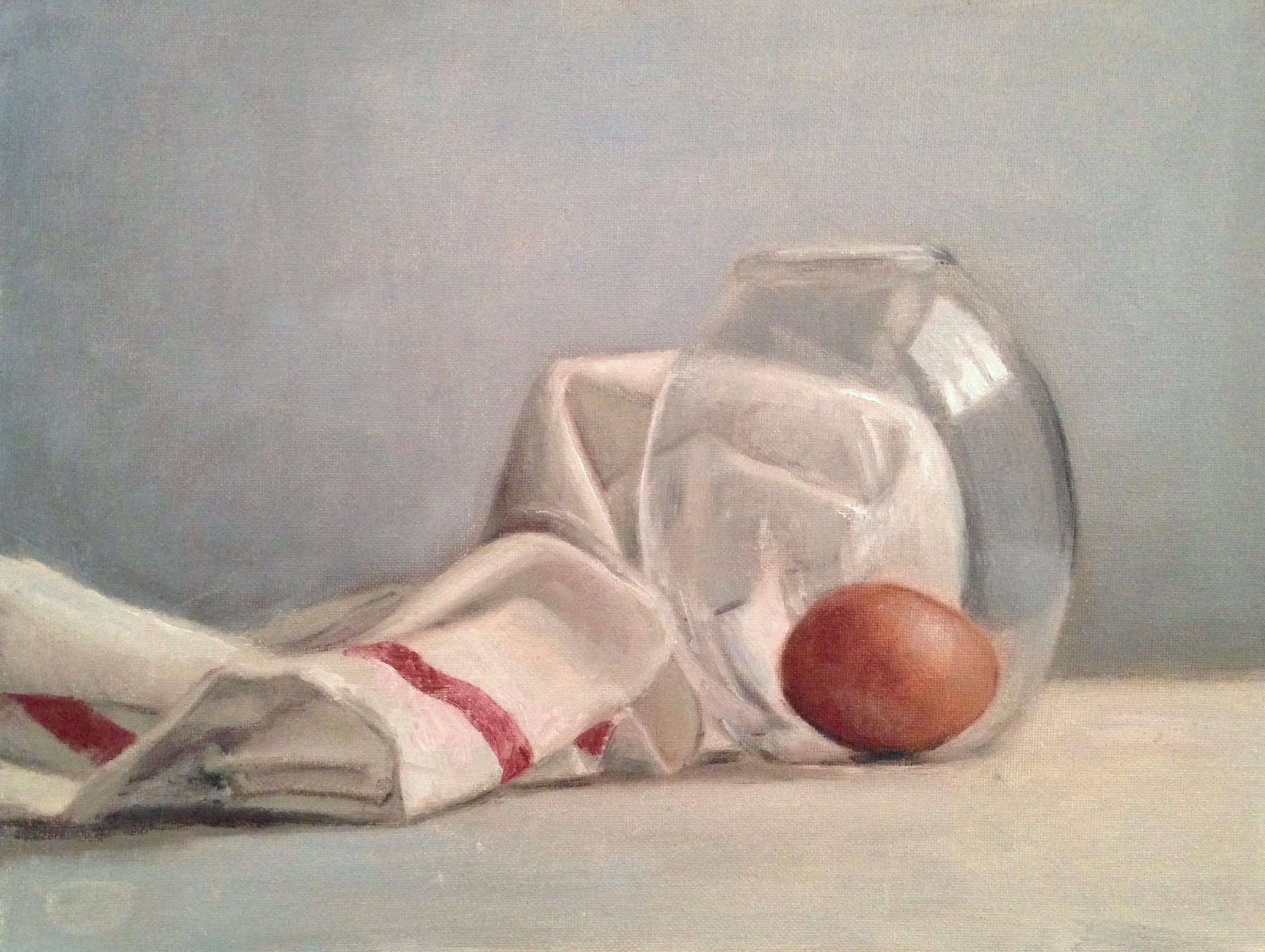 Egg Study
oil on panel, 11x14", 2015
Clementine Study
oil on panel, 11x14", 2015
Walking on Eggshells
2014, oil on canvas panel, 11x14 in (27.94x35.56 cm) In this deeply personal painting, Renée narrates her emotions while exploring different points of view in her work.
1
2
3
4
5
6
7
8
9
10
11
12
13
14
15
16
17
18
19
20
21
22
23
24
25
26
·
·
·
·
·
·
·
·
·
·
·
·
·
·
·
·
·
·
·
·
·
·
·
·
·
·